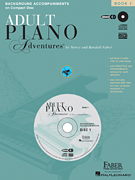 ADULT PIANO ADVENTURES ALL-IN-ONE LESSON BOOK 1 Background Accompaniment CD (Audio & MIDI)
Manufacturer Part #:
  674398209897
For adult beginners, use Adult Piano Adventures. This comprehensive, All-In-One book includes lessons, solos, technique, and theory in a single volume for ease of use. Book 1 presents the fundamentals of music notation, chord playing, and musical form. Songs include: Amazing Grace · I'd Like to Teach the World to Sing · Merrily We Roll Along · Ode to Joy · Yankee Doodle · Row, Row, Row, Your Boat · Clock Tower Bells · Catch a Falling Star · Russian Sailor Dance · Lean on Me · and more.
View Helpful Introductory Videos Here
Nancy Faber, Randall Faber
Manufacturer Part #:
  674398209897
---
Customer Reviews